How to Get Back Deleted Messages On Facebook | Retrieve My Facebook Deleted Messages :
Wrongly deleted Facebook messages on your Android device? Want to
recover deleted Facebook messages
? Here are two simple methods tell you
how to recover deleted Facebook messages
easily!
As we all know, Facebook Messenger is one of the most important applications on your Android to stay connected with your close ones. Sometimes it is an important app in a work environment and can even have important work messages. Many of us prefer to communicate through Facebook as it enables faster communication and ensures easier connectivity.
At other times, you know that some messages are way too special to be deleted - after all, Facebook might be the place where you met your girl. So, what do you do if you find yourself mistakenly deleting some messages from Facebook Messenger?
The messages could turn out to be crucial. Hence, losing messages from your Facebook Messenger could be frustrating. Not only you will you lose memorable messages with your loved one but also important work details. With a little bit of work, it is possible to recover deleted Facebook messages on your Android phone. Yes, it doesn't matter if you have deleted facebook messages from the Messenger app, you can still have access to those lost messages.
Can we recover deleted Facebook messages from Android device?
Recover deleted Facebook messages
Facebook Messenger follows the principle called, off the internet. Off the internet, means there is another copy of the same messages in your phone memory. Hence, messages you thought were gone, are actually still there on your phone. So it is feasible to recover deleted Facebook messages within several simple steps easily.
Here is how you can recover your deleted Facebook Messages:
Download any file explorer for Android. This app will help you explore the folders on your SD card. I suggest using ES explorer, it is one of the best.

Open the ES File Explorer App. First, go to the storage/SD card. There you will find the Android folder, which holds all the data related applications.

Enter the folder and tap on Data folder.

Under Data you will find the folders related to all applications. You will find "com.facebook.orca" folder, which belongs to Facebook Messenger. Just tap on that.

Now tap on the Cache folder, under which you fill find the "fb_temp". It has all the backup files related which are saved automatically by the Facebook messenger.This make sure that we can recover facebook messages on our phone.
Another way to find the same files is accessing your phone memory from computer. Just connect your phone to your computer using USB. Follow the same procedure and access the fb_temp folder.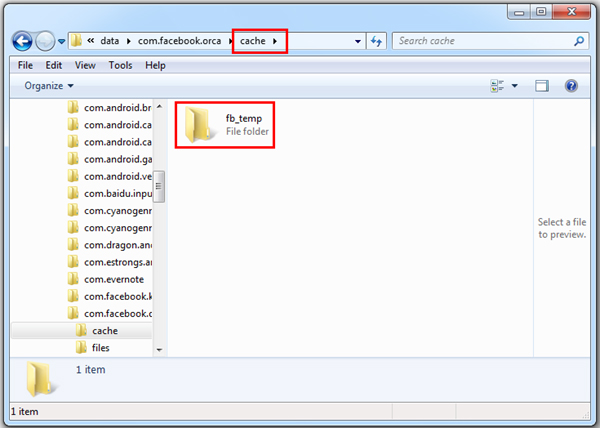 Will you choose iPhone XS or Samsung S9?
Part 2: How to recover Facebook messages?
Archiving the Facebook messages
Archiving message is good way to secure your message from future mishaps. Archiving messages is easy and requires only minor effort on your part. You use this method on either Facebook website, Facebook or Facebook Messenger, all gives little control over your messages.
Go to the Messenger and open up your recent conversation list. In addition, scroll to the contact, which you want to archive and perform long press. Following windows pops up.

Archiving the entire message
Now, just select the archive and it will be moved to archive that can be unarchived later when you need it.
It so simple and easy to archive Facebook messages but you must be aware the archiving contact, conversation history will be still there. If you want to delete the conversation, go to Recent tab and choose delete option after long touch. This is an ultimate solution, so think about what you are doing and do it unless it is complete necessary.
Part 3: Recover deleted Facebook messages from a downloaded archive
Recovering deleted Facebook Messages
Once you have archived the message they are safe for life and you do not have to worry about them. In future, if you decide to view the archived message it is also easy and simple.
If you'd like to recover deleted Facebook messages, firstly, you should log-in to the Facebook account.

Click on "Account Settings" shown in the below picture.

Click on "Download a copy of your Facebook data" at the bottom of the page.

Here you can see a page where you download what you have done before in your Facebook account. Click "Start My Archive"shown in the below screenshot.

Then it will pop up a box named "Request My Download", which tells you that it will a little while to gather your Facebook information. Click the green button "Start My Archive" again to start gathering all of your Facebook information.

After that, here will show a small dialog box. And there is a download link at the bottom of the dialog box.Click on the link so as to download your archive. This may costs you about 2-3 hours if you want to recover Facebook messages.

Enter the password again before you download your archive.

Click on the "Download Archive" button and it will immediately download to your computer. Just unzip it, and then open the file which named "index". Click on the file "Messages" and it will load all of your past messages.
So, you just recover Facebook messages acccording to the above steps.
Yes, it is easy to recover deleted Facebook messages, and you do not have to worry about mistakenly deleting the Facebook messages. However, you would be responsible for the kind of action you take for your messages. Archiving and un-archiving needs to be done carefully. You must be aware of the messages you are archiving, as they will be gone from the list. To un-archive them, you will have to take a few extra steps to get back them. Though deleted, you should not worry as messages are completely recoverable but make sure you do not delete the cache files from your phone. Once the cache files are gone, only way you can see your conversation is by downloading the archive from the website.
Except to recover Facebook messages, if you want to
recover your deleted files
, contacts, photos, videos, audio, documents, WhatsApp history or call history one your Android phone, just try
dr.fone - Recover (Android)
! Just 3 simple steps, it will recover all of the above data easily!
Watch Youtube Video on How to Recover Facebook Messages on Android
Facebook is just one of the methods where we stay gotten in touch with our close friends by texting, sharing condition, pictures, and so on not only that it additionally aids us to obtain important information, work messages and also several points
. Facebook is the one whom countless people prefer to make use of because it is faster and also easier to connect.
While making use of Facebook if you have actually erroneously removed the important message like work information as well as others beneficial messages from your loved ones as well as feeling aggravated for losing it after that flew away from your aggravations by getting back the messages.
If you are not aware of getting back your erased messages after that here in this message, we are mosting likely to offer a few of the methods which will aid you to get back your removed message from Facebook If you have shed your memorable messages erroneously then prepare to make use of the methods which we are mosting likely to provide using this method and also stay away from aggravation. See the listed below blog post to get some methods.
How To Get Deleted Messages On Facebook Back
Listed below we are going to supply some easy 2 parts of methods whereby you will easily get back your erased messages from Facebook.
Initial part of recuperating Facebook Messages from Archive message
Below is an additional way of recuperating the message. Archive message assists in securing messages, as well as it's easy to use. You can utilize it on Facebook, Facebook Messenger, and on the Facebook web site also.
To use this Archive message follow the actions listed below:.
Initially, open your recently conversational listings from your Carrier app and then start choosing the one that you want to keep in Archive Message by tapping long press to obtain the home windows appears shown with an alternative.
From that Windows pops up choose Archive and your messages will instantly transfer to archive message.
Later if you intend to unarchive, after that you could go to your archive message whenever you require.
It was among the easy steps which will certainly help you to obtain back your messaging by keeping it in Archive message. Start maintaining your important messages to Archive message before you mistakenly erase it.
Two part to regain deleted message from downloaded archive
Above you have actually archived the messages to maintain it secure as well as secure however if in the future, you intend to check out the messages after that have a look at the actions given below to obtain it.
Here are the steps to view the messages from archive message:
- First, you will should visit to the Facebook account.
- After logging it go the Account setting by clicking it from the screen.
- Currently after account setup starts clicking on "Download a copy of your Facebook Data" from the bottom.
- Afterwards, you will certainly see the web page what you have shared on Facebook click "Start My Archive".
- Currently Windows turns up will certainly be shown on your display as "Request My Download" it might take a bit for you to collect the details. Just click the green button "Start My Archive" to obtain started.
- Then, you will be revealed a little dialog box with a downloading and install web link listed below. Click that link to obtain your Archive messages. To get done it could take couple of hrs.
- After that, it will ask you to re-enter your password, enter your password once again before getting the Archive message and click on proceed.
-"Download Archive" switch will certainly be revealed on your display click on it to get the message and also open up the file name "index" under that you will discover many options click on "Message" documents to obtain fill your previous messages that you have kept in Archive.
- Currently you could rapidly view the vital messages from downloaded Archive.
If you wish to come back your messages which you have mistakenly removed, after that the above blog post is most likely to aid you. We have actually given 3 parts of easy actions to recover your messages. The above message will aid you to get save your message and later you will certainly get to watch it in Archive message.